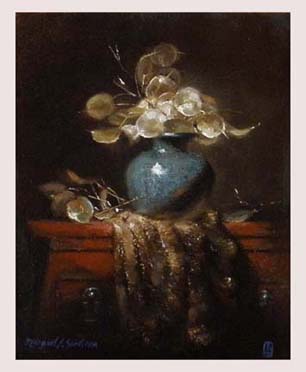 Hatshepsut's Gift
Sold
10×8 Oil on Gold Leaf 
© Margret E. Short, OPA, AWA 2009
Lessons from the Pharaoh's Tomb
Lawrence Gallery, Portland, Oregon, September & October
Hatshepsut's Gift   is the first painting attempted using the Egyptian pigments and was a huge challenge. As I have said many times, the natural hand- made pigments are vastly different from the modern manufactured commercial paints. Each one handles like none other.
To achieve the blue green tones of the jar I used a combination of azurite and malachite with an addition of black warmed with red for the shadow areas. My favorite combination for various shades of whites is white, yellow ochre, and black which I used on both the silver dollars and lace.
For the azurite to be saturated it must have large pigment particles, thusly it is slightly gritty and can be difficult to manipulate. Malachite is finer but far less saturated. Saturation is a word used to describe the low/high coloration quality of a certain pigment. This is extremely important to artists. We have to know how powerful a color will be and how to handle that power. In other words, malachite is a low power color and does not have a natural deep intensity in pigment form.
Now believe me, red iron oxide, which was used on the chest, is so powerful and intense it is difficult to control. Tiny bits must be added to other colors or it completely over powers. The inscription on the jar is a story about Hatshepsut one of a very few female pharaohs, and this painting is dedicated to her.
Lawrence Gallery, Portland, Oregon