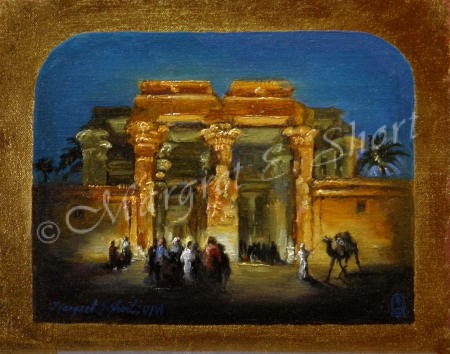 Kom Ombo
8×10   Oil on Gold Leaf
© Margret E. Short 2011
Lessons from the Pharaoh's Tomb, Part Two
It seems perfectly fitting to use gold leaf as a base support for the ancient Egyptian pigment project paintings, especially considering so many antiquities are made of precious metals such as gold. First I applied twenty three carat gold leaf to a linen/panel, then proceeded as usual with oils. Much of the brilliance of the gold is left to shine through the paint creating a sparkle of lights. An azurite sky surrounds the warm tones of the temple where I employed yellow ochre, red iron oxide, and whites. For the cool grayish greens I added yellow ochre to the azurite to create varied tones.
This temple of  Kom Ombo is set dramatically on a hill overlooking a bend in the Nile. This Greco-Roman style temple is Egypt's only double temple where everything is doubled and perfectly symmetrical along a central axis. The twin entrances, twin courts, and twin colonnades are all dedicated to both Sobek, the crocodile god and Haroeris the great winged solar disk.
Ever having the eagle eye and on the lookout for pigments, I detected small traces of red iron oxide and a blue that could have been azurite.

Galerie Gabrie, Pasadena