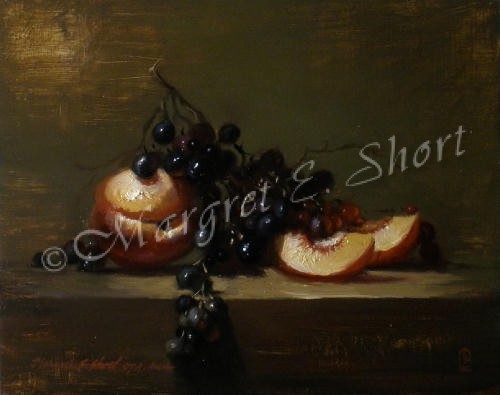 Offerings to Horus
8×10  Oil on Wood panel
© Margret E. Short, OPA, AWA, 2009
SOLD 
Lawrence Gallery, Portland, Oregon, September & October 2009
Shown here in Offerings to Horus are more items to be offered to the gods such as were found in the tombs of the deceased. Some of these offering lists describe many kinds of breads and cakes and one in particular called, shat-cake, is very interesting. This cake was an unusual isosceles triangle shape and because of its height had to be laid on its side, creating heads and tails in a pile. In a tomb from the 18th dynasty an entire kitchen scene depicts shat-cakes being made, date flour being sifted, and others frying and stacking the cakes. Grapes were common since antiquity but peaches were not introduced to Egypt until the Ptolemaic period.
Any offering to Horus would have been of great importance because he played a crucial role in the life of the pharaoh. Fruits, meats, cakes, wines, and many other varieties of foods would have been on the lists. Other items were jewelry, coins, art objects, and precious metals, each an offering to ensure everlasting life.
This painting was done on a wood panel which will create a different appearance from linen. Because of the hard texture-less surface the paint sits on the surface and creates splendid impasto.
Lawrence Gallery, Portland, Oregon