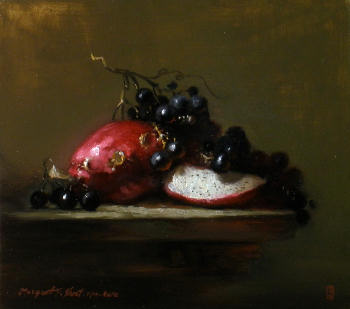 Offerings to Isis
8×9  Oil on Wood panel
© Margret E. Short, OPA, AWA, 2011
Lessons from the Pharaoh's Tomb, Part Two
This small painting was one of the most enjoyable to paint not only for the colors but also the subject matter. One day while hunting through the aisles of our local Asian market I spied a fascinating fruit of brilliant fuchsia coloration. It was called a dragon fruit and was completely foreign to me. I purchased two and hurried home to google for more information.
During my research I learned it is popular in Thailand but also grows in parts of the Mediterranean. Can't you just imagine the pharaoh standing over the sink eating slices of this luscious pear-like fruit, juice running to his elbows. All around the surface of the thick rind are eye-like petals similar to a cactus. A splendid brilliant white pulp and hundreds of tiny poppy-like seeds appeared upon slicing. Thus, these lovely fruits became my Offerings to Isis.
Isis, known as the Egyptian Mother Goddess, was the sister and wife of Osiris. She is sometimes shown with wings for arms and a throne sign on her head. It is said that Cleopatra, while plotting her demise with the asp, kept repeating, "take me to Isis" her favorite Goddess. The main cult center is Philae where we visited via boat.
Repeatedly, I have used the madder, Egyptian blue frit, and red iron oxide in varying combinations for many of the paintings in this project.

Galerie Gabrie, Pasadena