Are you looking for oil painting tips and techniques? Margret shares what works (and what doesn't) in all the resources listed below.
Inspired by trips to Egypt, commissions of still life oil paintings that include personal historical artifacts and specific eras of painting in history such as the 17th Century Dutch, you will find tried-and-true solutions to scores of oil painting conundrums. This will include pigments and paints used in specific time periods, how the paint was made, how and where it was found, what binders were used, how it was applied, cost of pigments used related to the wealth of the artists who used them, and what colors have survived the test of time and many more concepts involved in creating the art of the day.
Margret's Oil Painting Lessons Series
Beginning in 2006, Margret conceived a unique Lessons Series related to her discoveries and uses of natural pigments and how they relate to historical periods. The Lessons Series has now grown to six separate and distinct projects. This spans all the way from Rembrandt's bling in the Golden Age of Art in Holland in the 1600s to the dazzling riches in Land of the Pharaohs and most recently, the protective arms of Athena in Ancient Greece.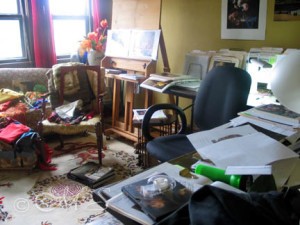 The latest Lessons Pigment Series focuses on the folklore, art, and colors of the American Desert Dwellers, and finally right into the modern age of the Girl Jazz Singers. Not satisfied with just the art of the era, Margret also digs deeply into the folklore of the specific culture in the lesson and creatively weaves tales and legends into each lesson as it relates to the making of the art.
Lessons in Natural Pigments:
Oil Painting Techniques and Tips
Need help with various techniques? The following blogs will help you understand and perhaps resolve questions you have had about the technical aspects of how to paint on gold leaf or silver leaf and how to prepare the leaf for painting. Painting on copper is one of the oldest surfaces and also one of the most permanent. If you have wondered how to approach this technique and why it is beneficial to use, check into the oil painting with copper blogs. You will be surprised at the ease and beauty of this method.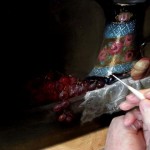 Margret has compiled years of experience, study and research which she shares here to help you in your quest for beauty in your craft of oil painting.
Products, Natural Pigments and More…
When it comes to paint, Margret's special love is in natural pigments. Don't buy cheap oil paint and remember to use your paint liberally. Your artwork will sing! These blog categories will broaden your knowledge about the differences, contrasts, and benefits of using natural earth pigments which will enhance the depth and sparkling beauty of the surface of your paintings. Learn the scientific differences between modern and historical pigments and why the size of the pigment particles (microns) make a significant impact in the look of your paint.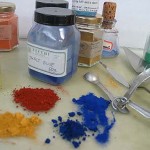 Permanency is a critical issue when it comes to pigments. Learn how and why some pigments were discarded and not used.
Trusted Resources
Caption for pigment image: Various pigments ready to use for paint making including, lapis lazuli, yellow ochre, and cinnabar along with other studio habiliments.