Some of the most enduring projects I have done throughout the years of painting have been personalized commissions. Have you thought about having a family heirloom, a cherished object from antiquity, a favorite color, a lace doily your grandma made, a lush colorful textile, a set of Venetian glass goblets, a figurine, alabaster statuette, an antique doll from your family's attic, or any other interesting treasure incorporated into a still life/floral oil painting?
Clients have come to me with items such as these, ideas of color themes they love, or cultures they would like to feature on canvas. The resulting artwork is then enjoyed every day and will become a legacy to be passed on to future generations. Nothing is more enjoyable than doing in-depth research of a specific time period, delving into pigments of the period, then blending that with historical events to create a personalized story in paint. If you would like to discuss a special commission piece created just for you, contact me using the form at the bottom of this page.
Recently Commissioned: Festival of Panathanaea
One of my favorite commissioned paintings is The Festival of Panathanaea shown here. Raymond Nolan, a collector, came to me with a request for a painting with the theme of 5th century BCE Greece. Specifically, the focus was to be black/red figure vase painting that was in its apogee at about 480-430 BCE. Happily, I delved head first into Ancient Greek history searching objects, pigments, myths, events, and the ever-present gods and goddesses of that period. The subject matter was endless and utterly fascinating.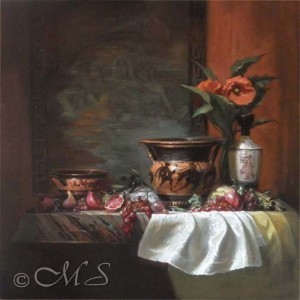 Over the ensuing months, I was deep into stories of gods and goddesses, historical pigments such as cinnabar and vermilion, olive branches, figure vase paintings, textiles, fruits and vegetables, flowers of the day, and all things 5th Century B.C.E. Greece.
The title, Festival of Panathanaea, was chosen because in ancient Greek mythology, Athena was the goddess and protector of all the arts including painting, sculpture, and literature. A celebration of her birthday was held every year (a majestic grand event every 4 years) which was called the Festival of Panathenaea during a month that corresponded with our July.
Feasts, athletic competitions, parades, performances, music, theater, boat races, equestrian contests, and religious ceremonies were held and everyone attended. Because these festivities were favorite subjects for the vase painters during the height of popularity of these vessels, it is a perfect subject matter for this composition.
The following Greek vases were brought to me by the client to be used in the composition. Black on red 5th century BCE.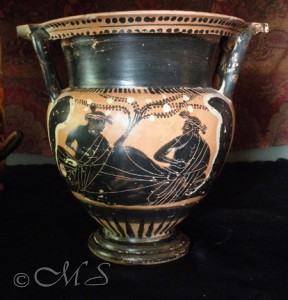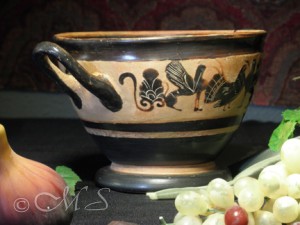 What Clients are Saying…
Since I already owned 12 of Margret's paintings, when I decided to commission a work focused on two pieces of ancient, 500 B.C.E., Greek pottery in my possession it was an easy decision to approach her with the proposed project. She outdid herself. After many hours of research she was able to integrate my pottery into a theme of the most important religious festival of ancient Athens, the Festival of Panathenaea. In addition to the excellent representation of my pottery, the still life included not only contemporary fruit such as grapes and pomegranate, but also, painted on a white lekythos is a representation of a chelys, an ancient stringed instrument dating back to Homeric times, linking in the musical competitions which were an integral part of the festival. She took my two pieces of pottery, and wove them in to a visual testimonial to an important component of Athenian history.

~ Dr. Raymond Nolan
Would you Like to Commission a Painting?