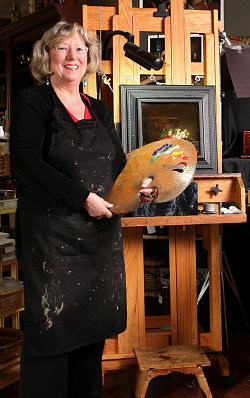 Oregon artist, Margret E. Short, specializes in still life and floral subjects in oils. Short is a Signature Member of Oil Painters of America and a Master Signature Member of American Women Artists, and a member of the Salmagundi Club in New York. The Salmagundi Club has awarded four first prize awards to Margret, once in 1998, again in 2005, 2010, and 2012. In 1998, Ms. Short won the Director's Purchase Prize at the National Small Oil Painting Exhibit in Wichita. Short has captured many other awards including the Grumbacher Gold Medallion at the 1999 Oil Painters of America Exhibit in Scottsdale, AZ.
Special Recognition
American Women Artists served on Board of Directors, 2012
Additional Selected Exhibits
Oil Painters of America Western Regional 2014 – Carmel, California
Salon International 2014 Honorable Mention – San Antonio, Texas
Oil Painters of America Inaugural Salon, Petoskey, MI
Oregon Art Beat Alumni Exhibit 2014 – Portland, Oregon
American Women Artists, Visions of the Southwest Exhibit, Sonoran Museum, AZ
Salon International 2012 – San Antonio, Texas
Small Works Invitational 2010, Kirkland, Washington
Oil Painters of America National 2010 – Scottsdale, Arizona
Masters in Miniature 2010, CM Russell Museum, Great Falls, Montana
Salon International 2011 – San Antonio, Texas
American Women Artists Annual Exhibition 2010 – Maryland
American Art in Miniature, Gilcrease Museum, Biloxi, Oklahoma
In 2003 Ms. Short was a featured artist on the Award winning Oregon Public Broadcasting, Oregon Art Beat, three times, in '03, '06, and '07. In 2004, The Parker Company, based in Boston, chose Margret Short as the 2004 Featured Artist for the Undiscovered Italy 2005 Ed.
Captivated by Rembrandt's bling, Margret produced her splendid '07 series, Lessons from the Low Countries. This project was inspired by the color palettes of eleven select paintings in the exhibit, Rembrandt and the Golden Age of Dutch Art, whichtraveled to 3 U.S. cities in '06/07. Ms. Short replicated 17 th century paints for her collection by hand grinding each pigment. Luscious colors, with magical names like lapis lazuli, cinnabar, and malachite are the focus of each bountiful still life. This entire project can be viewed via the blog – with detailed documentation including historical pigment research and images of all completed paintings. Not only are the colors reproduced, Short also quoted, quite accurately, sections of each original work in her paintings in a game of hide and seek. This nearly sold out exhibit was presented as a One Woman Exhibit in Portland, Oregon in June 2007.
Since this first Dutch pigment project, Margret has continued to explore and research ancient pigments used by cultures around the world including Egypt, Greece, and the Native Americans of the Southwest creating series of paintings based on specific pigments of those cultures. Most recently,  Short is created a series called Minerals, Metals, and Dirt. This series featured mineral and earth colors painted on copper, gold and silver leaf, brass, stainless steel, and aluminum and was  presented in Portland, OR in June 2013. See and read about all of her projects with images and stories of techniques and travels at via her blog.