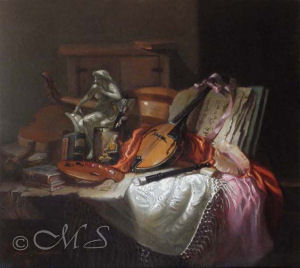 Color and lush paint are tools which bring lasting life to canvas when light touches objects in a dramatic way. Savoring the most lush brush strokes and brightest lights for the area of focus achieves a feeling of duality. That is peaceful quiet and excitement. This is accomplished by using mostly dark tones; several very light tones, and none or few in the middle range.
Technique and materials in painting are as important as the result, preferably using materials proven by the test of time. Fine lead-primed linens, pure pigments, many of them historical and handmade by me personally, and resin/oil mediums allow the paint to take on a certain glowing quality.
The chiaroscuro technique illuminates the focus area with a strong light. All other areas are painted with less detail, lower values, and intensity of color; giving a mysterious appearance. By putting one or two objects in the important focus area, a strong but simple composition will emerge. A combination of these various techniques and selection of superior materials results in the beautiful and evocative quality of painting known as chiaroscuro.