Besides making paints, now there is a newly found use for the ancient pigment, Egyptian Blue Frit. This pigment, made by heating a mixture of copper, quartz, sand, lime, and an alkali, dates from 3250 BCE and was used to decorate tombs, statues, coffins, and temple walls in Egypt during the long reign of the Pharaohs.
Who Knew Pigments Could Be CSI Aids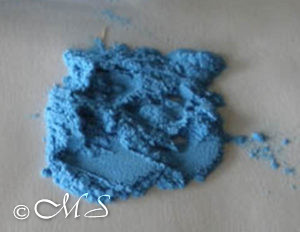 Modern day investigators and scientists have discovered a surprising new method of dusting the pigment onto complicated surfaces (shiny or highly patterned) to detect fingerprints left behind by careless criminals. This will aid law enforcement in the quest for solving crimes. In simple terms, existing fingerprint methods are enhanced by brushing the blue pigment on the complex surfaces, then photographing under a white light with a specific camera and filter. The near-infrared rays will glow which will reveal fingerprints.
Egyptian Blue Frit Invaluable in Lessons from the Pharaoh Series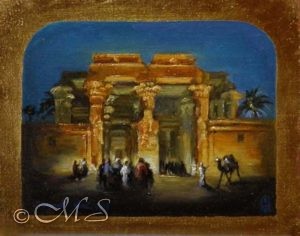 As you may recall, I used Egyptian Blue pigment extensively in my Lessons from the Pharaoh's Tomb I and II project series in 2009/11. In my research, I found there was speculation the pigment was possibly developed by accident when, during a faience making project, the heat source failed to reach the necessary 2000 degree mark by half. This resulted in crumbling particles that, when cooled, could be crushed into a beautiful blue pigment.
Here in Kom Ombo, I used the pigment to portray the glowing night sky which contrasts perfectly against the golden walls of the temple. Below left, the pigment was useful when mixed with white for the subtle blue of the sky and the color of the Nile River in Full Sail. For Cleopatra's Garden, I imagined a lush garden designed by Cleopatra herself, tended to by her many servants. Among the many things, she cultivated tulips, plums and other fruits, and what would an Egyptian garden be without the famous lotus. The blue was used subtly here in the flower vase. And now to be used in modern day law enforcement! Really amazing!