As you know, faithful readers, painting copies of masterworks has long been a favorite learning technique for me. Over the past 40 plus years, I have painted many including Rembrandt's The Polish Rider and Vermeer's Girl in the Red Hat both of which hang in my foyer. I have painted a number of other Rembrandts, a Franz Hals, and so many others I can't remember. It is a spectacular way to learn oil painting techniques including color harmony, composition, drawing, the discipline of painting with limited pigments like the 17th century painters – and all the other components that go into a work of art.
How I Painted My Own Vermeer
For this latest master copy, I chose Johannes Vermeer's Girl with the Pearl Earring. To employ only the colors used by Vermeer in 1665 was quite an exercise in self control but I was also intrigued by the special challenge of using his yellow/blue color palette.
To begin, I searched through all my oil painting books to find a good image. I didn't realize that my biggest obstacle would be the discovery that every single image had a disparate color tone. Unless you have the real thing right in front of you, it is impossible to know exactly what colors and values you need to best replicate an oil painting. I haven't seen the real painting since visiting The Hague several years ago. (I tried to borrow the painting from the Mauritshuis Museum in The Hague, but they did not return my calls).
I found some prints had a greenish tone, some were more yellowy, and some even a very warm tone.
I knew I had to just choose one and go for it.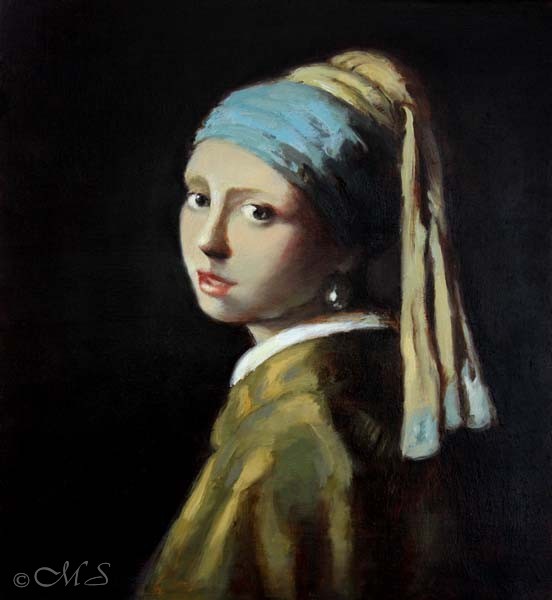 My finished copy, above, measures 10″ x 11″ and will fit a splendid Dutch style frame that I purchased from a little frame shop in Florence, Italy many years ago. The original Vermeer is larger and measures approximately 18″ x 15″. Always remember, when you sign a copy like this one, sign it in this manner: Copy of.Artist.Title.by Your Name. I signed this one as follows: Copy of Vermeer's Girl with the Pearl Earring by Margret E. Short
Like most painters from the 17th century, Vermeer used a very limited palette and there is no evidence that he employed an assistant. This means that he personally ground just enough pigment for a particular passage on his painting every day.
Some laboratory analysis shows he used no more than 15 pigments and sometimes a mere total of 5 or 6 on one painting.
The Beauty and Simplicity of a Limited Oil Painting Palette
Vermeer was born in 1632 and died in 1675. He and his wife, Catharina, had 15 children eleven of whom lived beyond infancy. At one point, they all lived with Catharina's mother who was the major financier for the household. Perhaps through the auspices of the mother-in-law, Vermeer was able to purchase and use the expensive lapis lazuli that makes his paintings so alluring. His basic palette for the Girl with a Pearl Earring consisted of white lead, yellow ochre, vermilion, red madder, red ochre, brown ochre, black, lapis, indigo, and weld. I followed this palette as closely as possible for my own Girl with the exception of indigo and weld.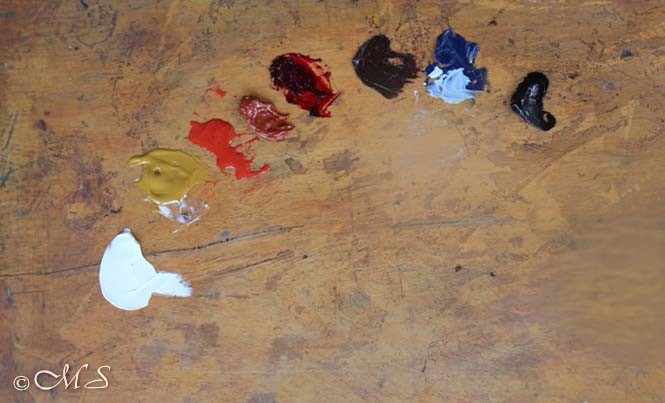 Color and Values are Vastly Different in Print
The following two images were taken from other sources. As you can see, the colors are very different from the print I used.
Here is my source: Vermeer Studies:Centers for Advanced Study in the Visual Arts, Symposium Papers XXXIII, Edited by Ivan Gaskell and Michiel Jonker.
More on weld and indigo historical pigments next time.