Compelling and interesting shadow shapes are one very critical component to creating excitement in your oil painting compositions.
Light, light direction, light diminishing and building, and light falling on objects can be used to the fullest and will portray drama and mystery depending on how you use it in each particular place on your composition. I feel most comfortable starting from the left and slowly proceeding towards the right. This is the way we read – left to right – and the mind readily follows this path.
The light begins dimly and slowly graduates to a crescendo of brightness as it moves across my composition. Within that concept is the natural way certain objects such as leaves or flowers block the light and create interesting shadow shapes that gracefully fall across other objects. Without this, a composition can be very bland.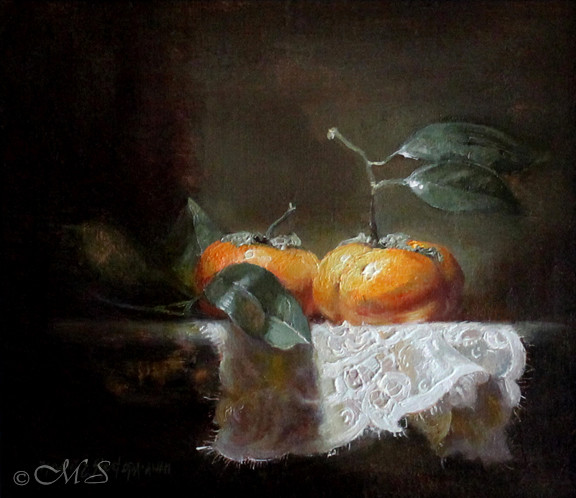 In Panoply, the light gradually moves from left to right building to a brightness in the focal area. The shadow created by the leaf in front of the first persimmon adds a dimension of drama. It is a perfect opportunity to create mystery within that shadow shape using blurred edges, giving the viewer something to finish.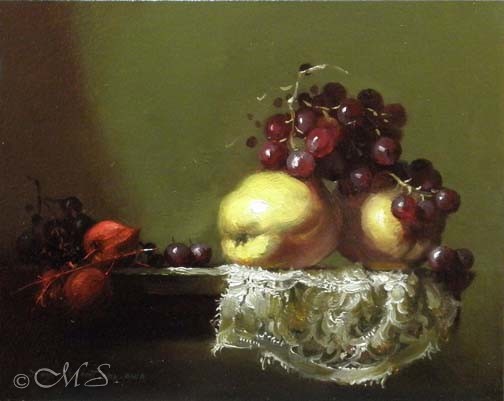 Here in Quince and Lace, the light is again coming in from the left. The Chinese lanterns and grapes in the dim light are painted vaguely without detail which means they are in the background and less important than the focal area. As the light builds and falls on the main characters, beautiful shadow shapes are cast across the quince by the grapes. Each component works together to create the dramatic effect.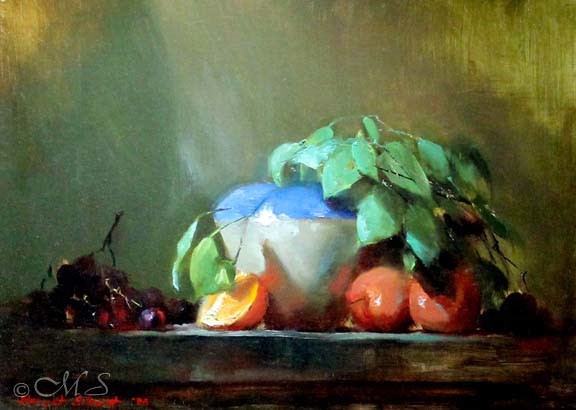 Here the light builds to a brightness then gradually quiets down again before it reaches the other side. The leaves, oranges, and orange slice contribute to making the various shadow shapes, which adds both drama and mystery.
Next time you set up your composition, try arranging the objects in a manner that naturally will create compelling shadow shapes. Not only does this add interest, it also is much more fun to paint.