May 5 through 7
Come join me and many other artists this coming weekend for the Spring Art Unveiling Festivities in Cannon Beach. I will be at Bronze Coast Gallery 'unveiling' five new pieces and a new pigment project painted exclusively for this exhibit. During the unveiling, scheduled for 12:30 on Saturday the 6th, I will give a presentation to discuss the topic of the exciting new project that has an intriguing, regional, and historical twist.
Sneak Peeks of New Paintings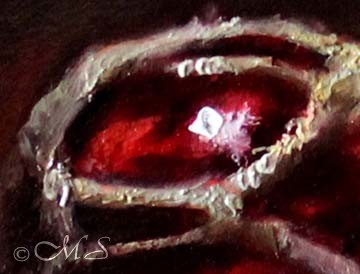 This event is sponsored by members of the Cannon Beach Gallery Group. Come play along the shores of Cannon Beach and in the varied and beautiful galleries. Nestled between the wild ocean and the coastal mountains, Cannon Beach offers art and craft ranging from the playful to the sublime. During this event, each gallery will spotlight new work by their chosen artists. Unveilings, demos, and receptions take place all weekend long, making this event an unparalleled experience for the art lover.
In its 24th year, Bronze Coast Gallery has become one of the Oregon Coast's premiere fine art galleries. The gallery also spotlights the finest in original painting and sculptures, and features more than thirty award-winning regional, national and international artists.