Sometimes painting small and very intimate compositions is the most gratifying. This 8×10 inch piece is very simple, but the shadow shapes are compelling and dramatic.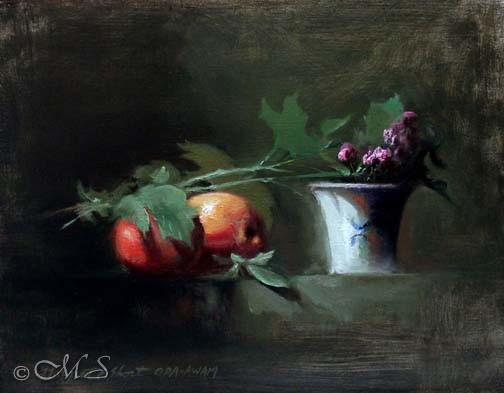 If you have interesting light, the painting is much more fun, and lights and darks flow across the canvas in a manner that captures the viewer and holds them in. I try to think of play… play with the paint, play with the brush, up here, down there, across, smudge, loose, crisp, thick, thin – with every stroke showing lots of variety. Some sort of foliage is a great way to achieve this, especially when interesting shadows fall on objects. This forces you to paint light and not objects.
This gives you permission to do anything you think will make a beautiful painting. Use your setup as the bounce-off point, then just play with the rest. Remember that your canvas is the reality – not your setup.
The Working Oil Painting Palette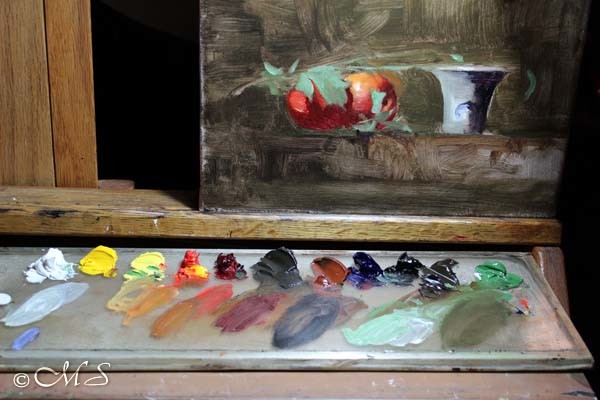 Ott Light Setup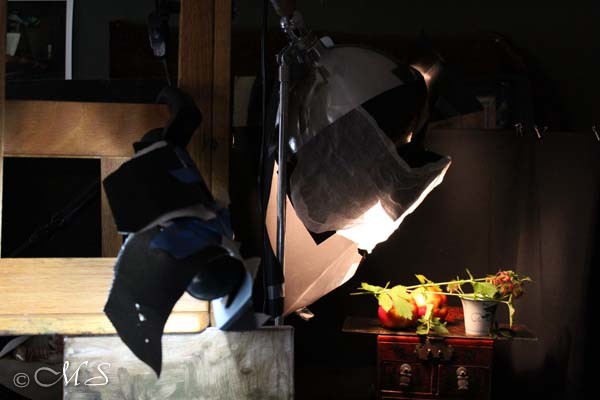 I do not have good natural light in my studio, and I have adapted by using lights that simulate neutral daylight. They are neither warm nor cool. One light illuminates my setup and one light illuminates my canvas and palette. Two lights are, in fact, a little too bright however, so I use various pieces of black paper and gauze fabric for masking. This creates just the right degree of brightness.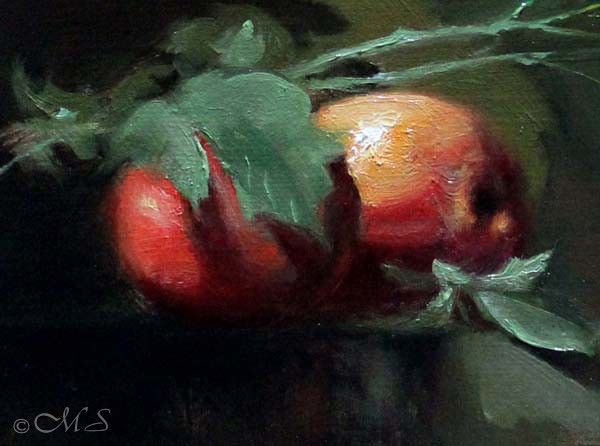 After a while, many of the leaves began to wilt, which made it necessary to imagine and improvise in areas that were too empty. You can see the free, playful, mostly thin paint in the background and foreground areas. By making the focus objects more dominant and by using more saturated colors, crisp edges, and thicker paint, the background just disappears. My mantra is, "What do I have to lose?". This thought compels me to play and experiment pushing the color, paint and light to the fullest. One of the beautiful benefits of painting with oils is the lush bravura brushstrokes achieved by using lots of juicy paint.
Oil paint is also one of the most forgiving mediums and anything can be scraped or wiped away to keep working towards your desired look.