Pigment Project Unveiling – Five New Paintings
One of the most exciting aspects of doing an historical pigment project is the unexpected discovery and this one is has been over the top fun!
Initially, my plan was to investigate the location and type of pigments found in deposits and mines around Oregon. Right away, I hit a mother lode of information finding copious deposits all around the state. The breadth and variety of colors is truly amazing. Many of the mines are abandoned now but the documentation of the once active diggings are available. Some varieties of pigments are useful to potters and are used in glazes but are not necessarily useful as pigments for paints.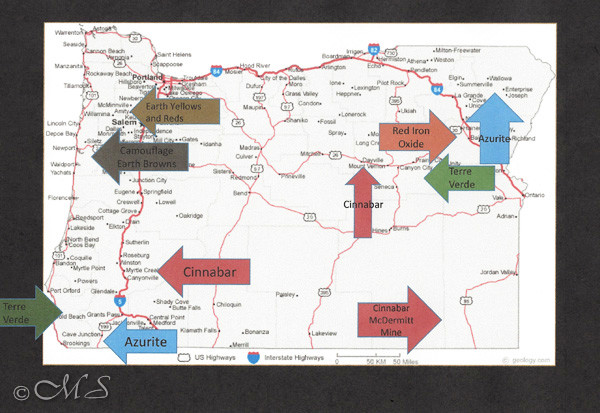 If you are adventurous, you can still dig around the areas to find deposits. To be clear, I did not do this. That would be a monumental task. I took the easy route and purchased the already mined and ground pigments. There are several companies that specialize in historical natural pigments so I let them do the hard work. My task was to use the colors in each new painting. The feature piece, Bright Oregon, includes all the colors on the map. You should be able to find and identify each one.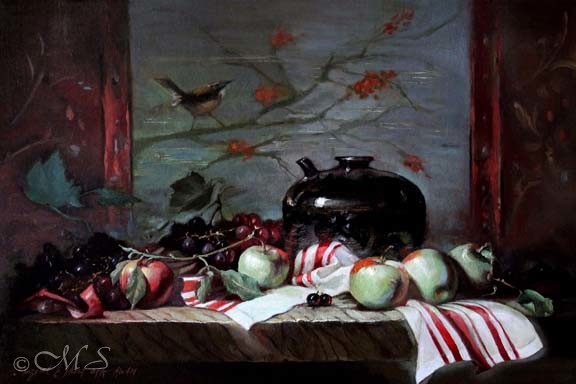 All five pieces were unveiled at Bronze Coast Gallery in the citywide Cannon Beach Spring Art Unveiling at 12:00pm on May 6th. Each of the additional four paintings feature one of the special pigments. You can see the azurite pigment on the left side of the pitcher in Azurite Modello. You can see the variety of green tones in Terre Verde Modello.  In that painting, I used a single pigment and added other earth darks here and there. The color of the copper glows through on all three pieces. The Cinnabar Modello oil painting features cinnabar in the red glass float as well as the pink shell.
Remember the 'twist' I talked about in my announcement on Wednesday? I am going to save that until next time! It is definitely the most intriguing discovery of the entire project. In the next post, I will unveil the painting – along with my fun story of discovery.