Ever wonder about the tricks the masters used to compose their paintings? Of course, there are many tricks such as color intensity, perspective, size, placement, and so forth, but one that most people don't know about is repoussoir. This centuries-old method creates drama and engages the viewer. Many of the masters such as Chardin, Vermeer, Rembrandt, and Mignon used this technique in landscape, figurative, and still life. In this post, I will talk about still life.
Ruh-poo-swahr
Repoussoir, pronounced ruh-poo-swahr, can achieve depth instantly by leading the viewer's eye into the scene. Broadly speaking, the translation is "to push back."  Simply put, an object of some kind placed in the extreme foreground of the still life or over the edge of the table gives the illusion of that object coming right out of the painting. This creates a powerful 3-D effect by pulling in the viewer and pushing back the other objects.
In Day of the Dahlia, I draped a luscious scarf over the edge of the table giving the illusion that you could pluck the fabric right off the surface of the canvas. This use of the repoussoir technique initiates the engagement of the viewer. The dark areas surrounding the fabric set the stage and add an element of mystery. Remember, darks advance, and lights recede.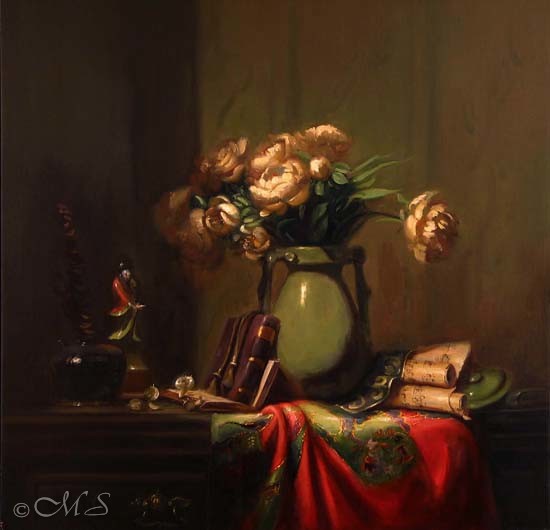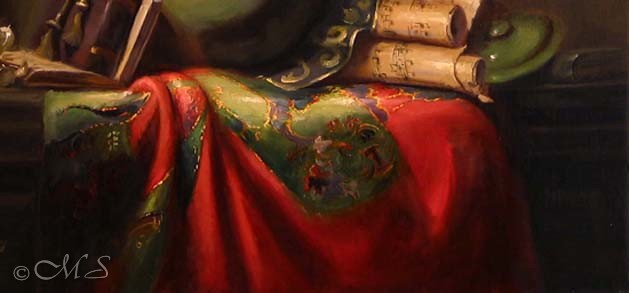 Engage Your Viewers
I have used repoussoir countless times over the years, long before I even knew there was a name for the technique. We all want our viewers to be captured, linger a while and enjoy the scene or still life story we have created. Engaging them with this technique makes them feel like participants with a task to complete. If we have accomplished our goal, perhaps they might peer even deeper into the composition.
The Golden Age, painted in 2006 for my Lessons from the Low Countries pigment project, is a good example of repoussoir. The texture of the lace instantly commands the interest of the viewer who wants to know if it is actual lace – or created in paint.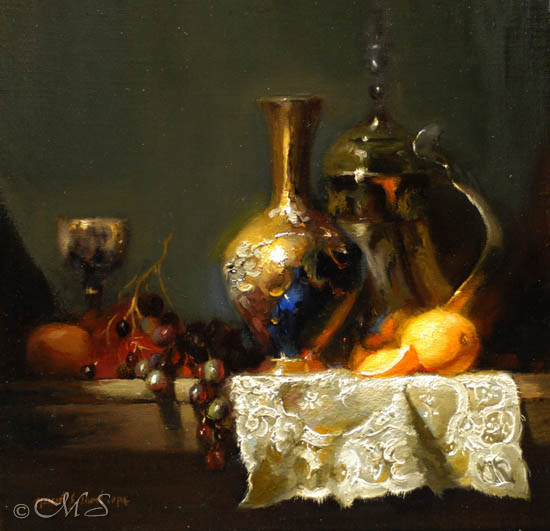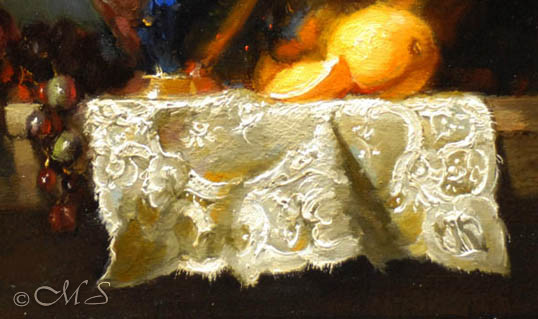 In this recently finished painting, Bright Oregon, I used a scarf with stripes. There are two reasons for this:
The scarf itself gives the illusion of projecting out from the canvas' surface and
The direction of the stripes further support the forward projection
Still Life Oil Painting Tricks
There is also an additional trick used here: the viewer's eye is drawn to the intensity of the bright red in the stripes. So you could say repoussoir actually has a triple-impact effect! Next time you are planning the layout and composition for your still life objects, think about how you can engage your viewers as participants. Place something over the edge in the foreground and see what happens.